Spa Valley Railway » Enthusiasts » General Managers Blog
Friday 4th, Saturday 5th & Sunday 6th May
A very busy few days preparing for the A-Class launch, I went out on a test trip light engine on Friday evening and it was extremely enjoyable! Saturday was a day off but I popped along for a ride on the A-Class and to pass on any information I had as I am from today on leave for over a week on holiday.

Sunday 6th was the most interesting in terms of operations day this weekend, we had both 'Ugly' and 52322 out in service, the former on a Driver Experience, the latter on the passenger trains, these running to Groombridge only due to an engineering blockade on the Uckfield line. An intensive timetable was in action which ran very well with both engines running 6 return trips from Tunbridge Wells to Groombridge (the latter two went to Birchden Junction).
Passenger numbers for the turn up on the day's for Saturday were 121, this was also boosted by advanced bookings. Sunday had 137 turn up on the day, again this was boosted by advanced bookings. A total of 46 people booking in advance to see the A-Class on the Eridge days and for the Groombridge only day we had 32 people book in advance.
I am now away for a week in Dorset and will not return to office until Wednesday 16th May.
28th & 29th April
The 28th was another Saturday of High Weald Belle dining, this went very well with 76 diners (2 cancelled on the day) and all enjoyed their evening with us, Ugly doing the honours of hauling the train. For a small railway, having steam running until late evening is quite a regular occurance.
Onto the 29th the railway was quite a hive of activity in the morning, 1317 had a private charter and the Green timetable was also in operation. All ran smoothly and the charter was followed by three driver experience trips to Eridge and return, the DEMU proving as popular as ever!
A total of 244 turn up on the day passengers were with us this weekend, a further 75 for a coach booking, 76 Saturday night diners, 70 for Sunday lunch, 30 for the private charter and 3 for the driver experience meant that we had quite a number of people travelling through the High Weald last weekend!
Onwards into this week, Ugly will be in action on Friday and Sunday for a Steam Driver Experience, the A-Class will be launched on Saturday (I'm rather looking forward to this, I first enquired about bringing the loco to Spa around 4yrs ago so it'll be nice to see her in action!) and will then operate all weekend.
I'm away from next Monday for my annual holiday in Dorset.

April 21st to 27th...
Another Day Out With Thomas weekend came and went, this was also accompanied by around 600 scouts which we annually take from Tunbridge Wells West to High Rocks for their St Georges Day meet at Adams Well Campsite. Two trains were run for the scouts outside of the standard public times, they were then all returned later that evening followining the days events coming to a close.
They will be back again next year for more!
On Tuesday 24th and Wednesday 25th April the A-Class 52322 started to arrive, the tender came first followed by the loco. Thomas then departed on the lorry that brought in the loco part. Following their attachment 52322 was stabled outside on No. 4 road which is where it will be living for the time being.
The passenger train formation is due to be put back to the dining train one this Friday following Thomas and now things are shunted around we can bring back some wagons which need work and put them into the shed. 'Kate' is having another lift this weekend replace a broken spring and the finishing touches are going into the kitchen. We anticipate Kate coming back into traffic on the final weekend of May following a nearly 6 month renovation project which involved the kitchen/bar and wiring being completely modernised.
The Class 10 D3489 which failed in February is also due to return to service this Friday following the renewal of the troublesome bearing and also routine maintenance. 73140 is now on the verge of returning to service too.
April...
So, it's been a while! A lot has been going on recently. Currently we're in between two Day Out with Thomas weekends which certainly bring in a lot of visitors to our railway to see the cheeky blue engine himself. This coming weekend will be the last time to see Thomas in Tunbridge Wells until he returns again in October and we've very few seats available!
The return to service of bar car 'Kate' is now imminent, the new worktops were fitted last Wednesday however a spring needs changing on one of the commonwealth bogies over the next week, thankfully we've the jacks to make it a lot easier! It is anticipated that 'Kate' will return to service in early May following a £8,000 period of work which has included a full re-wire of the kitchen/ bar and the coaches electrical control cupboard plus the lighting at that end of the vehicle and a total rebuild of the whole kitchen and bar area. This may seem like only a few words, but the number of hours put into 'Kate' by mostly volunteers (the worktops and new lino floor were contracted out) is phenomenal.
The commercial and dining train team has been extremely busy, and this will continue to be a trend throughout the Summer. The visitor numbers for the past couple of Tuesday trains haven't been as hoped but the Wednesdays and Thursdays have been fantastic.
Joining our steam fleet from next week will be Andy Booths Lancashire & Yorkshire A-Class locomotive No. 52322, the locomotive will remain on loan until August 20th. This is only the second tender engine to ever visit the Spa and the first time the A-Class has been this far south, don't miss out, the locos first running day is Saturday 5th May!
Joining the Class 17 D8568 and Class 55 55019 'Royal Highland Fusilier' will be a favourite amongst our visitors in the form of Class 25 D7612! Previously visited in 2007 and 2015 this extremely popular Sulzer Type 2, owned by South Devon Diesel Traction will be with us from July until October featuring in both the Summer Diesel Gala, Autumn Diesel Gala/Beer Festival and also running days in between.
From last week...
Time seems to fly when you're having fun! Wednesday and Thursday were admin based but Friday saw trains running so arranging the Cream Teas took priority. A lot of happy customers along with very full Easter trains were the order of the day.
Saturday, the final day of March, gave me the opportunity to take 33201 out on a Driver Experience, 3 participants over the course of the day, one doing two return trips. All went without fuss and were very enjoyable so we certainly had a good time! The was followed by a trip back to Groombridge to drop off a carriage before running back light engine.
Saturday evening was the first time I missed running a dining train so far this year, but that was so Stu and I could fit up the new Loop/Yard points with stretcher bars pending the re-connection to the ground frame. This has been handed over to other members of the S&T team.
Easter Sunday was busy again and a turn in the ticket office happened from 10:30 until 15:00 prior to another Cream Tea. Easter Monday will be a day off!
From Saturday 24th to Tuesday 27th...
A lot has gone on over the past few days at the Spa!
Saturday started off with a private charter Cream Tea which was well received by the party. No sooner had this been cleared away and we were laying up for a High Weald Belle. This ran perfectly with 56 guests on board. We finally finished at about 22:30 leaving a lot of things for the following morning.
Sunday was another High Weald Belle, lots of dining trains at the Spa! This wasn't full to the 78 but nonetheless still had 60+ diners on board for a roast dinner. The service went well without any issues.
Later that afternoon and to about 20:30 that evening I was with my PA, Matt, having an in depth conversation about catering items and their costs. The master spreadsheet was gone over in fine detail, this spreadsheet lists all the catering items we sell at the Spa, the price to purchase, the sale price and also whether or not it is worth stocking. This review will see certain products taken out of circulation once they have sold out and either replaced with new or removed entirely as we've enough other options.
A brief visit to the yard to drive 'Southerham' to get Bluebell ready for loading broke the meeting in two but continued thereafter. Matt does an awful lot for me and the Spa behind the scenes and I'd like to thank him via my blog. He puts up with a lot!
On into Monday and a lot of admin was caught up on and I visited 'Kate' to see how it was coming along, a huge thanks to Stuart Pay, Jon Nye, Mike Thorne, Andy Mac and all the other volunteers in Carriage & Wagon who've helped with this major project, it is much appreciated by us all. Two new fridges destined for 'Kate' were delivered and the worktop fitter also came in to take the required measurements. We are planning to see 'Kate' back for the last weekend in April.
Tuesday... Well today I was on a training course, more about this will be revealed in due course...
Friday 23rd March
Tonight, was our monthly board meeting, commencing at Tunbridge Wells West for 19:30. Nothing major to report on however some decisions were made relating to items of rolling stock, their location and the potential for another vehicle to join us in the future.
Visitor numbers for the opening month of February were 25% up on the same month last year which is pleasing to see. A major contributing factor being the PJ Masks event held on our first operating day of the year.
The recent snowfall has not helped us in March with a lot of visitors cancelling and we suspect others staying away. The lack of bar car 'Kate' has lessened the catering offering available on the train which is a major source of income for the railway. The catering team have a basic catering setup in TSO 4999, but it is by no means capable of what 'Kate' was and will be when the coach returns to service. We expect 'Kate' to re-enter service for passengers during our April Day out with Thomas event followed by a full public return to service over the 28th/29th April. A new 'Dining in the Weald' drinks menu has been created and will increase the offering from 'Kate' quite considerably. The re-launch of 'Kate' will tie in nicely with the launch of our new Morning Coffee service. This is when customers can enjoy a train ride with a selection of pastries and tea or coffee on the 10:20 from Tunbridge Wells West.
This weekend I doubt I'll get the opportunity to write much…
Saturday:
I've a meeting in the late morning followed by a private charter Cream Tea on the 13:40. Once this has been cleaned down I'm then running the evening High Weald Belle Dining service.
Sunday:
Following the Saturday night, we're then into a High Weald Belle Luncheon too, these are all very demanding so if any volunteers or potential volunteers are reading this, I/we need your help so please do get in touch!
Jonnie
Wednesday 21st March
This evening was spent checking over the proof for the new dining train leaflet which is at the printers. A variety of emails answered from a large range of people.
Orders of various items for Kate's new kitchen have been placed including the new fridge, wine cooler and internal cupboard bins. An order for some plates for the Cream Tea/Morning Coffee service was missed so its off to Parcel Force to collect them tomorrow afternoon. These will see use on Saturday afternoon for a private charter Cream Tea.
Timetable checking for a varied three train timetable has continued this evening.
Monday 19th March
A hospital appointment started the day which resulted in a lot of blood being taken for testing! Fortunately following my issue (Myocarditis) in December I am making a good recovery, a follow up MRI scan taking place later this year and a further check up in a years time. Medicication is the order of the day for the time being. Anyway thats enough about the actual me and now onto the GM job...
Locomotive hire agreement for a third diesel for the Summer Diesel Gala has been signed by myself this afternoon and an agreement from the owner of another engine received this evening which I will get a chance to review tomorrow pending signing I hope towards the end of the week.
A new PAW Patrol advert has been created and sent away for approval and the Dining in the Weald leaflets went to print, these should be with us by Easter. I try to get leaflets out very early on in the year but the Dining ones were only a late idea hence the delay in their publication. The main lealfet we always aim to have printed for the Santa Season so that customers go away with a list of what we're up to for the following year.
Broom Lane Bridge was struck (again...) by a vehicle this morning but fortunately was not damaged to such an extent as last Septembers.
Sunday 18th March
A long day of meetings today... First of all, the Safety Management Group met to discuss a variety of topics, these included the 2018 rule book update, HOPS and also training and development for staff.
Following this meeting a second meeting took place which was to see the day out and was focused on our steam locomotives. This was to plan out a way forward with internal steam locos and which engines we are aiming to return to steam. This is a lot easier said than done however a very productive conversation was had and I hope we can bring you some news on these developments in the near future. We are committed to steam at the Spa Valley Railway and if anyone reading this would like to get involved, especially skilled persons such as machinists then we'd be delighted to hear from you!
Our small steam team do perform wonders and the progress on 'Sutton' really is gathering pace, the cylinder block has now been fitted to the frames and work ongoing to make the locomotive a rolling chassis in the not too distant future.
Following the meeting I was invited to take a look at the kitchen and bar development in 'Kate', the small team has been working extremely hard in this vehicle with the re-wiring work nearing completion. The kitchen base units are now secured and the two new fridges purchased. These will be installed as soon as possible with the worktops then to fit once they are delievered. It is our aim to get 'Kate' back into service during April.
Nothing major to report for the week ahead, a hire agreement however may be signed for a locomotive or two...
Saturday 17th March
Another Saturday and another Fish & Chip Murder Mystery (or another dining train, there's too many to remember!)
Today was rather quiet after the first train with snow falling quite heavily in the town. Many opting to stay at home out of the weather!
I had a meeting to discuss a potential event with an outside firm earlier this afternoon which involved a ride down the line to see the various locations we have to offer. The conclusion was that the event could happen with a lot of planning, we're not looking for 2018 but for 2019 it is a potential so watch this space!
The evening was spent serving on the dining train which was rather busy, we are rather looking forward to getting 'Kate' back in service soon though to take the pressure off the temporary set up. More volunteers are once again needed on these vital services which are essential for the railways day to day income. Please do get in touch as we do need your help!
The evening trains although rather stressful due to the lack of bar car and the blizzard outside were a success with a lot of happy customers and many repeat visitors. Bluebell providing much needed heat in the -1 conditions.
Tomorrow is a Safety Management Group meeting.
Friday 16th March
Well today started well... The A26 road bridge just outside Tunbridge Wells West was struck by a lorry at 08:15 this morning, thankfully the damage wasn't as bad as Broom Lane's last September although every time the words bridge, and strike are mentioned next to each other it is rather unnerving!
With the bridge inspected by two of our in-house Bridge Strike Nominees the line was declared fit for the passage of trains.
Many emails were dealt with as is the norm and an advert created for the Tunbridge Wells Local Summer edition. I have made a start on the timings for the Summer Diesel Gala as to run the service that we have in mind a test of timings by 1317 will be necessary.
The Rare Track Excursion is proving popular, the Branch Line Society will be supporting us with this once again for which we are very grateful.
Trains this weekend are Bluebell and 33063 hauled, we've another evening dining train out until around 22:00 so as always, its all go at the Spa Valley!
Wednesday 14th March
A new beer has been sourced, this time from Westerham Brewery, their popular British Bulldog at 4.3% will be in stock for this Saturday nights Murder Mystery. This will replace Rail Ale for the time being and having stocked it before in firkins at galas I've no doubt it will sell well.
We have quite a reputation for stocking locally sourced beers and ciders, all of our beers are from the Kent & Sussex area with Spitfire, Whitstable Bay, Harvery's Sussex Best and now Westerham. The ciders we currently stock are Blend 23 from Kent Cider which is a very traditional sweet cider, another cider will be in stock soon to take the list back up to two.
Tuesday 13th March
We've received a lot of positive feedback about the visit of the Clayton over the past 24hrs which is very pleasing to see, with the rate time seems to be going by it'll be the Summer Gala before we know it!
The Summer Diesel Gala has been 'my baby' for quite a number of years now, 2012 being the first time I ran one of these events. Since then we've had the following visitors: Class 14s D9537 & D9539 Class 20s, D8098 & D8059, Classs 25s D7612 & D5185, Class 26s D5310 & 26038, Class 31s 31206 & 31289, Class 33/2 33202, Class 50 50026 and also Class 205 DEMU 1133. Quite an array of locomotives and also a unit, Class 33/2 33201 joined us as a visitor initially but has since become a resident on the line. I am extremely grateful to the owners and railways where these locos are based for allowing them to come and visit us in the past. This year with thanks to the Deltic Preservation Society and the Diesel Traction Group we should see two new classes of loco visit us with 55019 & D8568, the latter being the soul survivor of a class of 117 built.
So today, after many emails I met with two of our volunteers at Groombridge this evening to discuss the layout of the tills in the ticket office and the catering outlet. The new till system came into use on the 10th February with Matt Futter at the helm and on hand to deal with any issues that occur. The layout at Groombridge was being discussed to find a way forward following feedback to make it as user friendly as possible in terms of its positioning.
The evening has been spent making posters, replying to emails and also sourcing a new supplier of beer as for now our own Rail Ale will unfortunately no longer be available. Local breweries have been contacted to take our stock of bottled beers back up to 4, at the moment we stock Whistable Bay, Spitfire and Harveys Best Bitter, all very popular but we need a 4th to vary the ABVs on offer.
Monday 12th March
So the 'Clayton' is coming to Kent! The soul surviving Class 17 D8568 is to join us courtesy of the Diesel Traction Group for the Summer Diesel Gala 3rd to 5th August. Out of 117 built, D8568 is the only one that remains so is certainly a rare locomotive! Known as a Clayton after its builders, this locomotive was constructed in 1964 and is usually based on the Chinnor & Princes Risborough Railway.
This evening the press release and public annoucement went out via Facebook at 19:00 and the response has been very pleasing, it has also been tied in with a major PR launch for the gala with the return of the Rare Track Excursion and Class 33 Running Day for example. Although it is a while yet until August we have to keep planning and get ahead to make the most of the event. Many webpages and the associated artwork have been produced this evening and published on the website and Facebook for all to see. The press release took about three days to write as I kept changing bits! The artwork is quite quick as the program I use (see below) has templates ready made for it.
The 'Clayton' has two Driver Experience days booked at the moment on Wednesday 1st & Monday 6th August. D8568 will join Class 55 55019 'Royal Highland Fusilier' which is visiting us courtesy of the Deltic Preservation Society.
A number of people have asked recently where our posters and other artwork we use (such as website imagery) are made. Well, they aren't made external to the railway or by a professional, its something I've done for a few years now using the fantastic Adobe Photoshop, Illustrator and InDesign programs. The poster for the Diesel Gala for example, although it looks similar to other years is a brand image that we have, something very important to a commercial business. The main leaflet and the up coming 'Dining in the Weald' leaflet are made using this software and I must confess I do rather enjoy graphics design. For those that don't know my background and other proffession is actually in Railway Signalling & Telecoms having undertaken an apprenticeship for three years starting when I was 17. Graphics design or art was never my strong point at school but the use of InDesign is self taught and if anyone is ever in doubt about this kind of thing I'd certainly recommend giving it a go!
Now I mention my background is Signalling so why on earth would I want to be the GM of a heritage railway... Well it is because of the love and enjoyment that the Spa Valley gives me even with the inevitable stress the role brings, I met my partner of nearly 7yrs through the Spa and have some life long friends so supporting it and making sure it could keep going was something I wanted to help do. Perhaps not to this extent when I first started volunteering in 2007 but I do enjoy it and I'm very grateful and privileged to be in this position!
Jonnie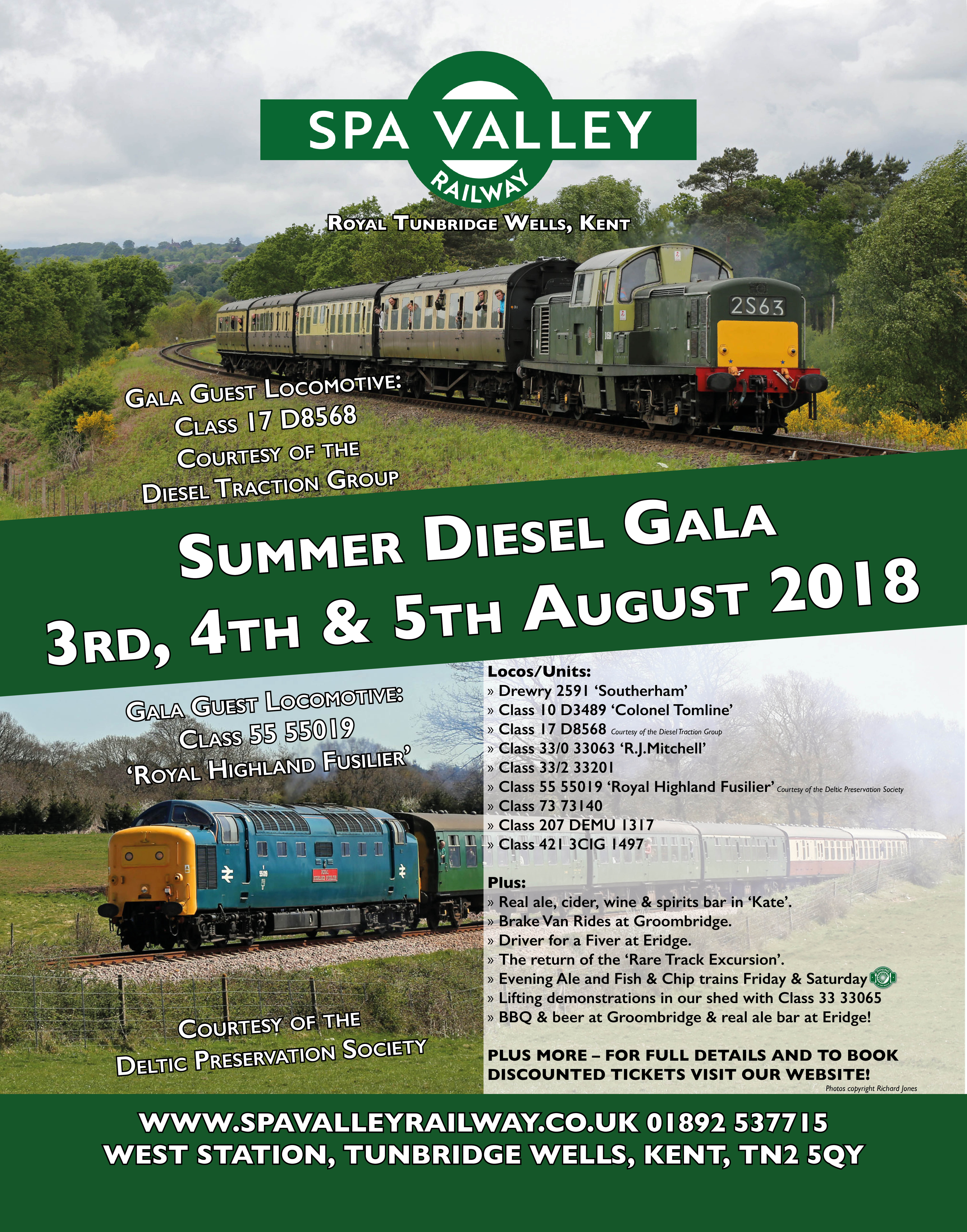 Sunday 11th March
I was covering Driver for a Fiver duties with the Drewry this morning for those booked in advance (as this weekend was intended to be the Spring Diesel Gala) after which a fair amount of shunting too place to get 31289 in place for loading.
Using both the Drewry and Class 33/2 33201 we re-arranged the yard extracting 73140 from the Coal Road to swap it for 31289, placing D3489 in the shed and then stabling 73140 in number 4 road. D3489 now being in the dry will enable the team to work on cleaning the journal without getting rained on. 73140 is also now accessible to continue testing once the brake fault has been rectified.
The popularity of Bluebell continued as did the following for the Spa Valley Railway with a lot of familiar faces still putting in an appearance despite the gala cancellation. We are extremely grateful for their support and we look forward to seeing you again in the Summer!
Following the shunting I caught up on some administrative items but decided to call it a day at around 16:00. Onwards into this week which as usual for this time of year is a quiet one however if anyone reading this would like to get involved we've a Monday Diesel team, Tuesday S&T team and Wednesday C&W/Diesel team, at the weekends our Steam team meet to progress the routine maintenace and the overhauls of our engines. All of these and other departments can always benefit from new volunteers so get in touch and join us today!
We're also always on the lookout for new volunteers to assist with our dining trains, if this sounds like something you'd be interested in then drop me a line at jonnie.wesson@spavalleyrailway.co.uk
Coming up this week should see 31289 collected, repairs continuing on D3489/73140 and the usual administrative tasks. Saturday night will see another sell out Murder Mystery Fish & Chips whilst Sunday is a day of meetings for me this coming week!
Jonnie
Saturday 10th March
What would have been our Spring Diesel Gala but everything decided to go against us! The original plan was for 73140 to go out on test on the 10:20 and 12:00 trains from Tunbridge Wells West. This didn't materialise as the locomotive suffered a brake problem which all the previous testing it didn't do, some may say that's typical!
So with 73140 out of action 33063 replaced it as it was going to later in the day anyway. As a result of all this the first train did leave at 10:45 vice 10:20 but we were back on time by the next trip thanks to a quick turn around at Eridge. I had a drive of 33063 on the 12:00 train as our Diesel Engineer needed to concentrate on 73140.
Following this I spent the afternoon firing Bluebell, an asbsolutely wonderful engine with a lot of power!
Onwards into the evening a Fish & Chip Supper train was in action with a comfortable number of passengers travelling with us, the food received great compliments and we even had a birthday on board!
Friday 9th March
The Chairman, Chris MacRae and I had a meeting to attend relating to an item of rolling stock which lead onto other discussions that evening. A site survey was then undertaken in our area outside Tunbridge Wells West with a view to get ideas around a table at a later date to discuss the tidying up of this area.
Wednesday 7th March
Apologies for the lack of updates I've been rather pre-occupied recently! The first bit of news is that the weather did get the better of us for Saturday 3rd March. Having been at the railway on Friday 2nd March to see the snow at about 20cm deep with more falling on top of it we had no choice for the safety of our own volunteers and visitors to cancel all operations on that Saturday. Our water tower had suffered in the -10°C freeze as had many of the water feeds onto the site.
On the Saturday a determined group of us (4 in total) set about de-frosting Tunbridge Wells whilst another volunteer visited Groombridge to ensure the platform surface was clear of snow and ice. Both 'Bluebell' and 'Ugly' were brought into steam to ensure the deep freeze hadn't affected them, all was well with both locomotives and so they were left to sleep overnight with 'Bluebell' then planned to operate on Sunday 4th.
By 18:30 when we left the site the platforms were clear and everything de-frosted ready for operating that Sunday, most of the snow and ice disappeared gradually throughout the day thanks to the sun and various braziers around the site. It was rather odd thinking that only 24hrs before the place had been buried!
Huge thanks must go to Carol and Matt for transferring all those booked on the cancelled Saturday night High Weald Belle to a future date and also to those who wished to transfer their booking from the Sunday luncheon. Although the snow melted for the Sunday in our area, a lot of neighbouring towns and villages were still impacted by the weather, our High Weald Belle customers travelling from far and wide for our dining experiences.
It is unfortunate that because of the weather and the roads around Kent & Sussex being completely gridlocked a few of us were unable to attend the Southern Six GM's & Commercial meeting, it has been postponed to a future date.
So, onto Sunday 4th and trains returned, although visitor numbers were as expected quite low, 85 people in total travelling on the line with an additional 36 (down from the original 60+) on the Sunday luncheon.
I spent the day driving our Class 33 33063 'R.J. Mitchell', this was my first passenger driving turn since November and it was certainly good to be back in the cab on the power handle! Four return runs with 'Bluebell' on the rear were had so 40 miles of driving undertaken. The popularity with our visitors and crews of 'Bluebell' has been extremely pleasing to see, the big brass dome attracting a lot of attention. A huge thanks to the Bluebell Railway for loaning us this delightful little engine.
Some shunting was done on Sunday evening to prepare for the arrival of the MK2 BSO back from the East Somerset Railway after bodywork repairs, this carriage arrived back today and is now in No.1 road at Tunbridge Wells for our C&W Manager to pay a visit to it with his brush (once he's finished with 'Kates kitchen!).
It is unfortunate that for a variety of reasons we've had to cancel our Spring Mixed Traction event. A combination of events that consists of the non-availability of the Class 10, 73, DEMU and run-around facilities at Tunbridge Wells West. This is never an easy decision to make and we sincerely apologise for any disappointment this will cause.
Advanced ticket sales for all of our dining products are soaring, this includes the Mother's Day Afternoon Tea this Sunday being sold out.
So, onto the weekend which is now a lot calmer with just a Green timetable in action.
Saturday 24th & Sunday 25th February
Bluebell was launched into traffic this weekend with lots of visitors coming through the gates at Tunbridge Wells West to see her! A few of us took the 10:20 down the line to see the loco at Eridge and assist in the watering should she need it. Upon return to Tunbridge Wells West I had a meeting with our PR agent Caroline to discuss some of the next parts of 2018. I've been working with Caroline since becoming the GM and it is always a delight! She shared some videos of Bluebell on her Twitter page too.
Sunday came and went as quickly as Saturday with the first High Weald Belle of the season, this utilised 4828 as normal but also half of 4999 (our TSO). Kate being out of action for another couple of weeks as the kitchen and bar are rebuilt. Our Carriage & Wagon department were working extremely hard along with our Electrician this Saturday & Sunday to progress the vehicle. The wiring is now complete in the kitchen and the bar now nearly rebuilt. Three of the kitchen units are now mounted onto the walls and two of the base units built.
So onto the High Weald Belle, 68 diners (down from the usual 78) without a bar car... I was ably assisted by Cameron, Toby, Lauren and Julia on this service all doing a wonderful job to ensure drinks orders were taken out as required whilst the team from The Complete Lunch undertook the fine food service. The roast beef was awesome!
I took the decission last week to adapt the Spring Diesel Gala to become a Mixed Traction Event using Bluebell as she's with us, the timetables for this are nearly complete and will appear online soon.
Wednesday I'm off to the Mid Hants for our Southern Commerical Meeting.
Friday 23rd February
A busy afternoon! Firstly I was taken around Bluebell prior to her enterting traffic on Saturday, a shunt using 33063 then followed to reform the A set for our dining train this Sunday.
The final hours of Friday were spent in a Board meeting.
Tuesday 20th February
A quiet evening which gave me time to concentrate on our latest dining trains leaflet, this is nearly at the proof reading stage. Advanced ticket sales for the visit of 'Bluebell' have gathered pace over the past 24hrs which is very pleasing to see!
Monday 19th February
Bluebell has arrived from Sheffield Park! Courtesy of the Bluebell Railway, this 1910 built 0-6-0 tank engine was delivered today by Reid Freight. Arriving after its short journey from East Sussex 'Bluebell' was safely unloaded and shunted using our Drewry and 33063 into No.3 road in the shed. Bluebell will enter service this coming Saturday. We are extremely grateful to our friends at the Bluebell for loaning us their locomotive and we look forward to seeing you travelling behind her over the coming weeks. For those interested she is facing towards Eridge, unusual for our line as most engines face towards Tunbridge Wells West.
In other news, a minor fault on 33201 has been rectified which saw this locomotive back in action and the VMIs continued on our DEMU, all that remains is an over the pit examination one the run round loop has been put back together.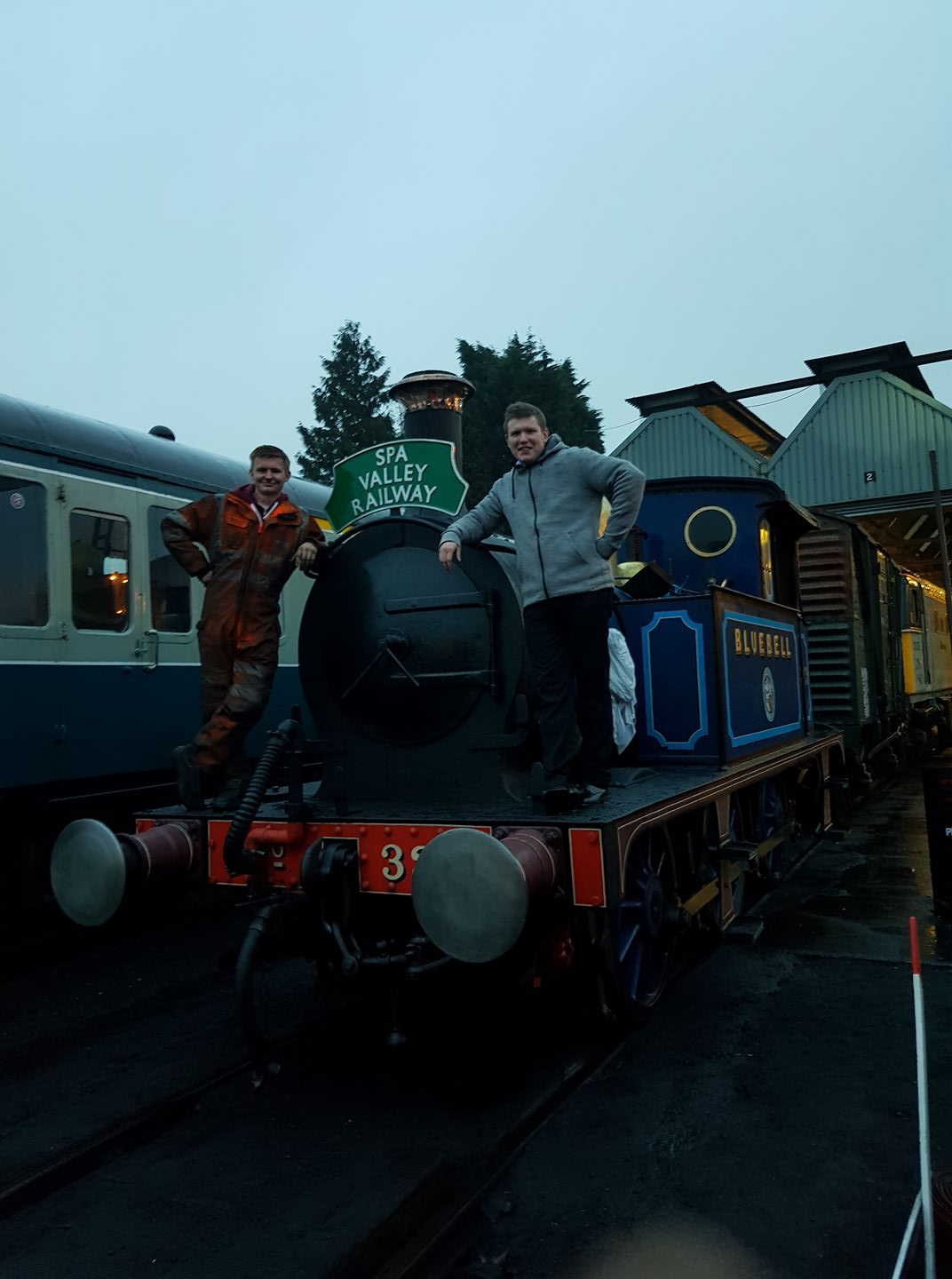 General Manager Jonnie Wesson (right) with Locomotive Department Roster Clerk Charlie Ralph (left) after unloading Bluebell.
Sunday 18th February
A quiet weekend when compared with last ones however trains were still well filled. Our temporary bar set up in TSO 4999 doing a roaring trade along with the buffet at Tunbridge Wells. 328 passengers carried over the two days although this figure excludes special bookings and internet bookings for our Valentines Wine Specials that we had going on.
A meeting was held on Sunday morning with our Steam department to discuss where we are with locomotive overhauls, presently the Jinty, Sutton and Lady Ingrid taking priority. The cylinder block for Sutton is due to go back into the frames next weekend and the axle boxes are being machines off site. Once this is complete the package of already overhauled wheels, motion and other components can be re-assembled making the locomotive a rolling chassis. The next big task after this will then be the locomotives boiler.
A further meeting with our Steam Engineering Assistant was then had this afternoon to discuss taking on loan another steam locomotive later this year, all was agreed, and this should progress later this week. Steam Driver Experiences were also added into our 2018 calendar with a new volunteer taking on the coordination of these events.
Tomorrow, SECR P-Class No. 323 'Bluebell', courtesy of the Bluebell Railway will be arriving at Tunbridge Wells West so today various shunting movements were done at Tunbridge Wells West to prepare the yard ready for her arrival.
In the shed 'Kate' was having her bar rebuilt and our electrician continued his fantastic work with the full re-wire of the kitchen and bar area, we estimate that 'Kate' will not return to action before Easter, once back in action a few more products will be on offer!
So onwards to the arrival of 'Bluebell' tomorrow!
Friday 16th February
We met with our partners Growth by Design on Monday evening for a meeting to look at logos for a new brand identity for our dining products. With 8 offerings (High Weald Belle Dining, High Weald Belle Luncheon, Afternoon Tea, Morning Coffee, Cream Tea, Fish & Chip Lunch, Fish & Chip Supper & Murder Mystery evenings) it was thought best to bring it all under one umbrella identity.
The term 'Dining in the Weald' was devised and a meeting was had in late January with Growth by Design to discuss the creation of a logo for the brand and all advertising going forward. After just a week's work we were presented with three different designs to look at last Monday evening. The one we've chosen didn't take long as we were sold straight away, the logo captured exactly what we wanted, the wording 'Dining in the Weald', the aspect of a train by use of the wheel and the dining with the knife and fork, the wheel acting as a plate so really tie it all in together. The overall shape of the logo is similar to that of our railways own logo that is based on a traditional Southern Railway 'target' sign once common sight all over the Southern Railway network.
Working with Growth by Design has been a fantastic experience from the beginning, amazing value and a brilliant service. Their MD being very flexible to meet with us on evenings after most offices would be closed, I would strongly recommend them!
'Dining in the Weald' now brings together all of our dining products under one roof and we think you'll agree, the logo is rather smart!

Jonnie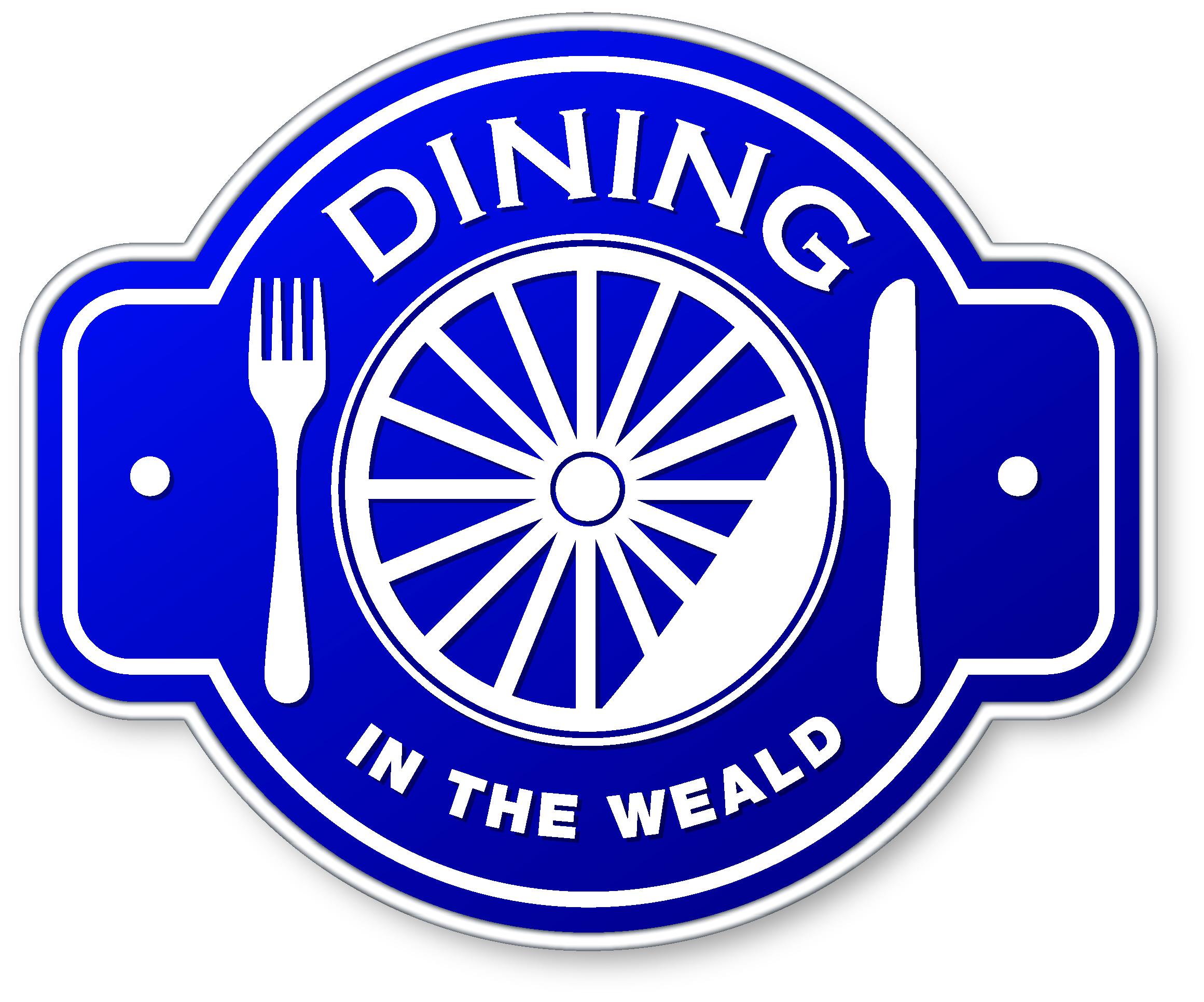 Thursday 15th February
The Spa Valley Railway is delighted to announce the visit of South Eastern & Chatham Railway P-Class locomotive No.323 'Bluebell' courtesy of the Bluebell Railway.
The 1910 built 0-6-0 tank engine, preserved in 1960 at Britains first standard gauge preserved railway, will be arriving at Tunbridge Wells West next week and enter service on the 24th February. Bluebell will operate along with one of our diesel locomotives on Green timetable days until the end of March prior to returning to Sheffield Park in time for Easter.
Photos copyright Jonathan Hughes.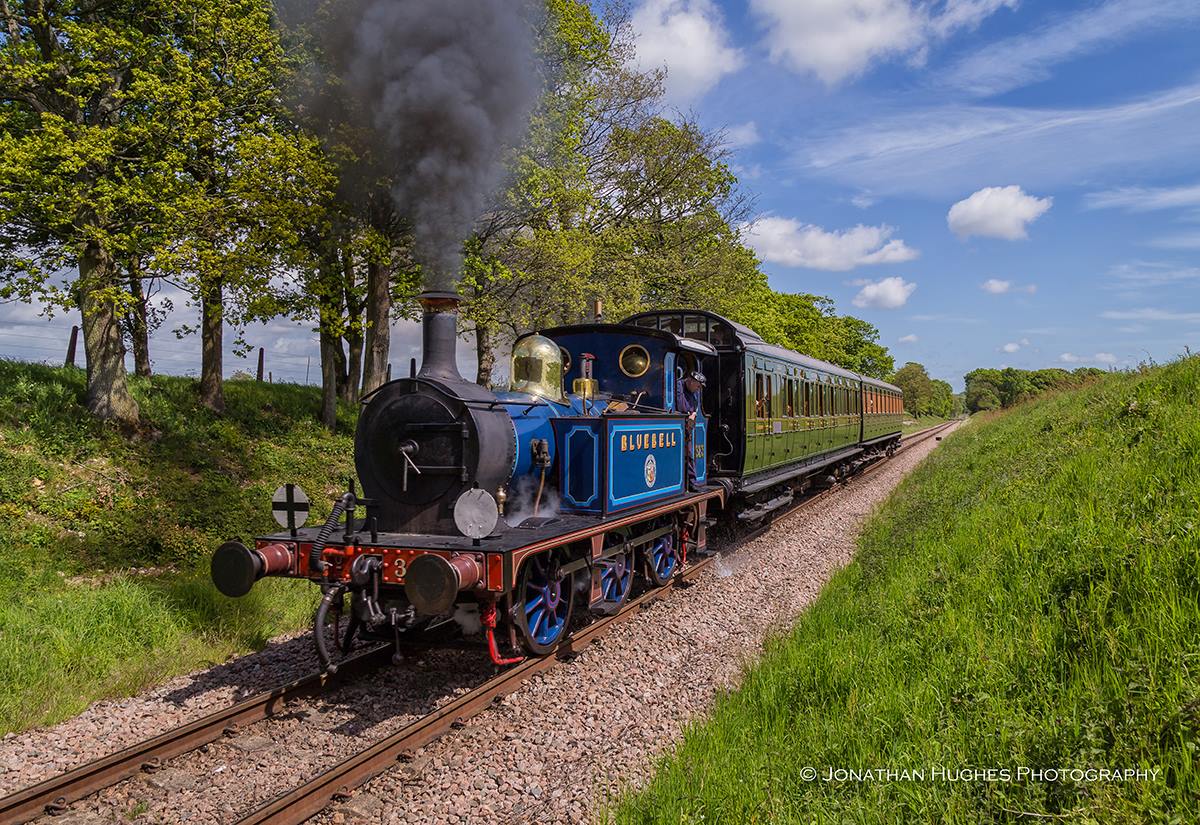 Tuesday 13th February
A locomotive hire agreement has just been signed! Watch this space for an engine which will be arriving in the very near future for a short period!
No.72 also left the railway today following a period of hire over the past 2yrs, we are extremely grateful to owners past and present for the loan of this lovely engine!
Jonnie
Monday 12th February
Met with our logo designer this afternoon to discuss the new brand image for our dining train products, more on this very soon but the final product looks amazing!
Tomorrow should see 72 and 31289 departing from the railway, this will leave us on the steam front with just 'Ugly' however plans are well underway to bring another steam locomotive to us ASAP.
Jonnie
Sunday 11th February
So the 2018 season has commenced, and this also saw the launch of our brand-new retail system on Saturday 10th February. A project that has grown considerably over the past few months with the system on test behind the scenes. Huge thanks must go to Matt Futter (also my PA) for the work he has done to make this dream a reality. The benefits having already been seen with lots of favourable feedback from the volunteers using the system.
Visiting us for the 10th & 11th February were two characters each day from the PJ Masks show and advanced ticket sales for this day event were incredible, it is pleasing to see how popular these characters are. The total number of visitors for this event at the close of play were 1,069, a fantastic way to start off the 2018 season!
The first of many Saturday night dining trains took place on the 10th, the first Murder Mystery train of the season was will filled with 75 out of the 78 seats being sold. Due to the bar car 'Kate' being out of action we had a temporary set up in our MK1 TSO 4999 however sales were not hampered by this slight alteration with sales being much the same as when 'Kate' is available.
'Kate' has been in service since 1999, the coach received a major bodywork overhaul in 2012 and over the winter period 2018 the kitchen and bar area have been revamped. This work has also included a full re-wire of the kitchen area and associated cupboard/toilet, a new generator with a larger capacity is being sourced for fitting to this vehicle later in 2018. It is planned for 'Kate' to re-enter service later in February/early March in time for the start of our High Weald Belles for this year.
Operationally at the moment we lack a run round loop at Tunbridge Wells West, this follows on from the renewal of our main points in November and Loop/Yard points in January. Some further work was needed on the track in the run round line which will be coming back together over the coming weeks, our volunteers worked in all weathers to get our yard reconnected in time for the new season and have all done an outstanding job.
Into the next week should see Austerity No. 72 departing for a new railway and also see Class 31 31289 returning home to Rushden following its extended visit. Both locomotives have seen service on many Spa Valley Railway trains and we are grateful to their owners for letting them visit us.
That's all for now, I'll endeavour to keep this up to date as much as possible!
Jonnie