PLEASE NOTE: SATURDAY 12th & SUNDAY 13th OCTOBER
There will be no steam services available this weekend, as both of our steam locomotives are unavailable to be used for mechanical reasons outside of our control.
Instead, an all-heritage diesel service will operate, to our green timetable.
Class 27 27001 will run operate the usual diesel services, with another diesel locomotive, most likely Class 31/4 31430 'Sister Dora', operating the services that are normally steam.
We are sorry for any disappointment this may cause - our engineering teams have been working hard to return our steam locomotives back to service, and unfortunately this has been delayed by external factors.
See the Railway Calendar for our opening days and the timetable colour.
______________________________________
Green Timetable - Steam & Diesel

Please note that the train shaded in Yellow does not operate on 24th, 26th & 27th October or during December 2019.
All trains are hauled by steam or heritage 1960s diesel locomotives. In the event of the non-availability of a steam locomotive, an additional heritage diesel may be used.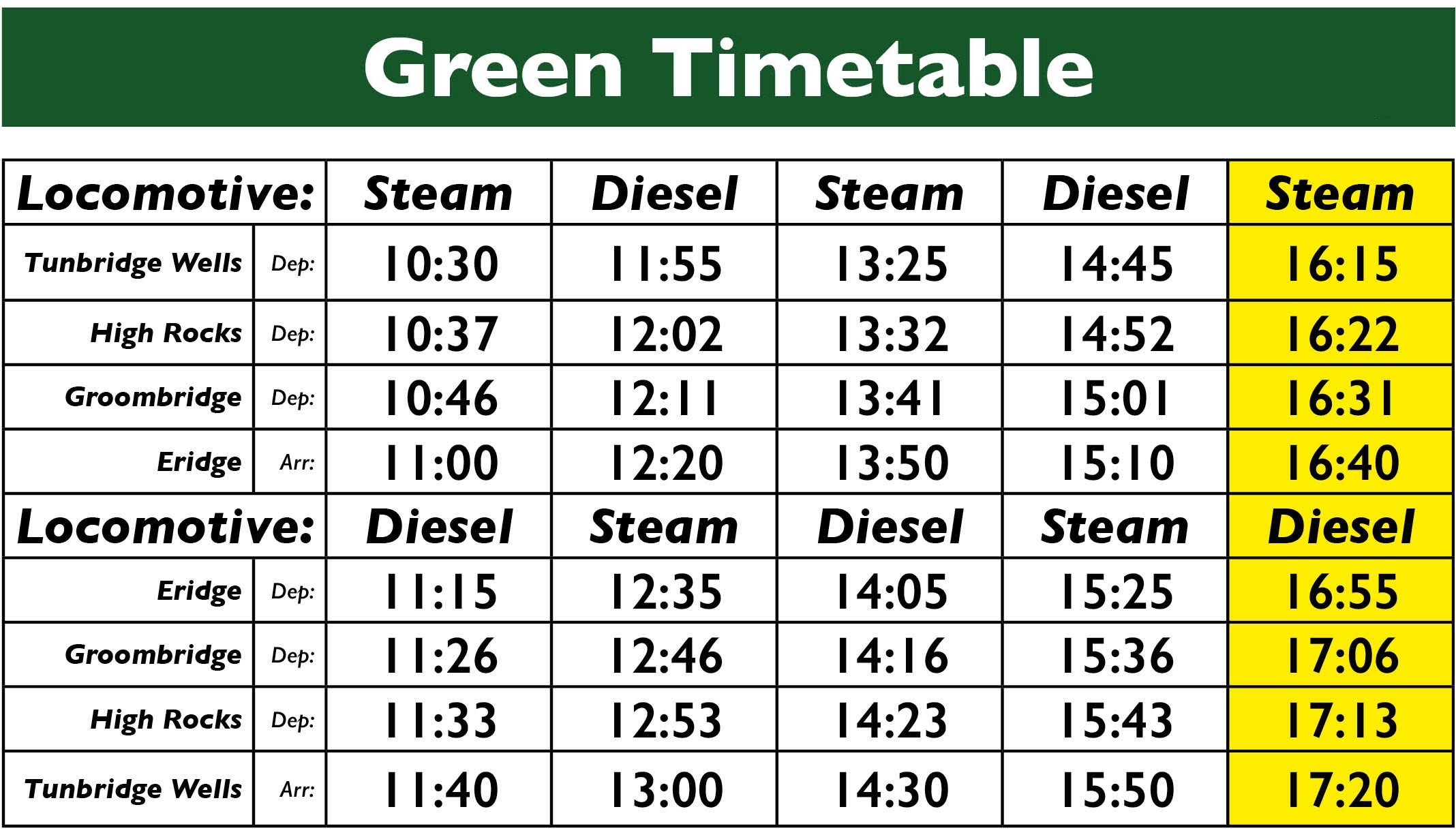 Whilst we make every effort to operate with a steam locomotive where one is timetabled and also to operate our trains as they are described, for operational reasons we may occasionally need to use a heritage 1960s diesel locomotives, other carriages, an emergency timetable or otherwise.
The Spa Valley Railway reserves the right to make such changes for whatever reason without prior notice being given.
______________________________________
Purple Timetable - Diesel Only

Please note that the train shaded in Yellow does not operate on 23rd October.
All trains will normally be operated by a 1960s heritage diesel unit, or an electrical multiple unit hauled by a heritage 1960s Class 73 diesel locomotive.