See the Railway Calendar for our opening days and the timetable colour.
SATURDAY 14th SEPTEMBER
TUNBRIDGE WELLS WEST TO GROOMBRIDGE ONLY (NO TRAINS TO/FROM ERIDGE)
TUNBRIDGE WELLS WEST DEPARTURES
10:30 // 11:55 // 13:25 // 14:45 // 16:15
GROOMBRIDGE DEPARTURES
11:26 // 12:46 // 14:16 // 15:36 // 17:06

______________________________________
Green Timetable - Steam & Diesel

Please note that the train shaded in Yellow does not operate on 24th, 26th & 27th October or during December 2019.
All trains are hauled by steam or heritage 1960s diesel locomotives. In the event of the non-availability of a steam locomotive, an additional heritage diesel may be used.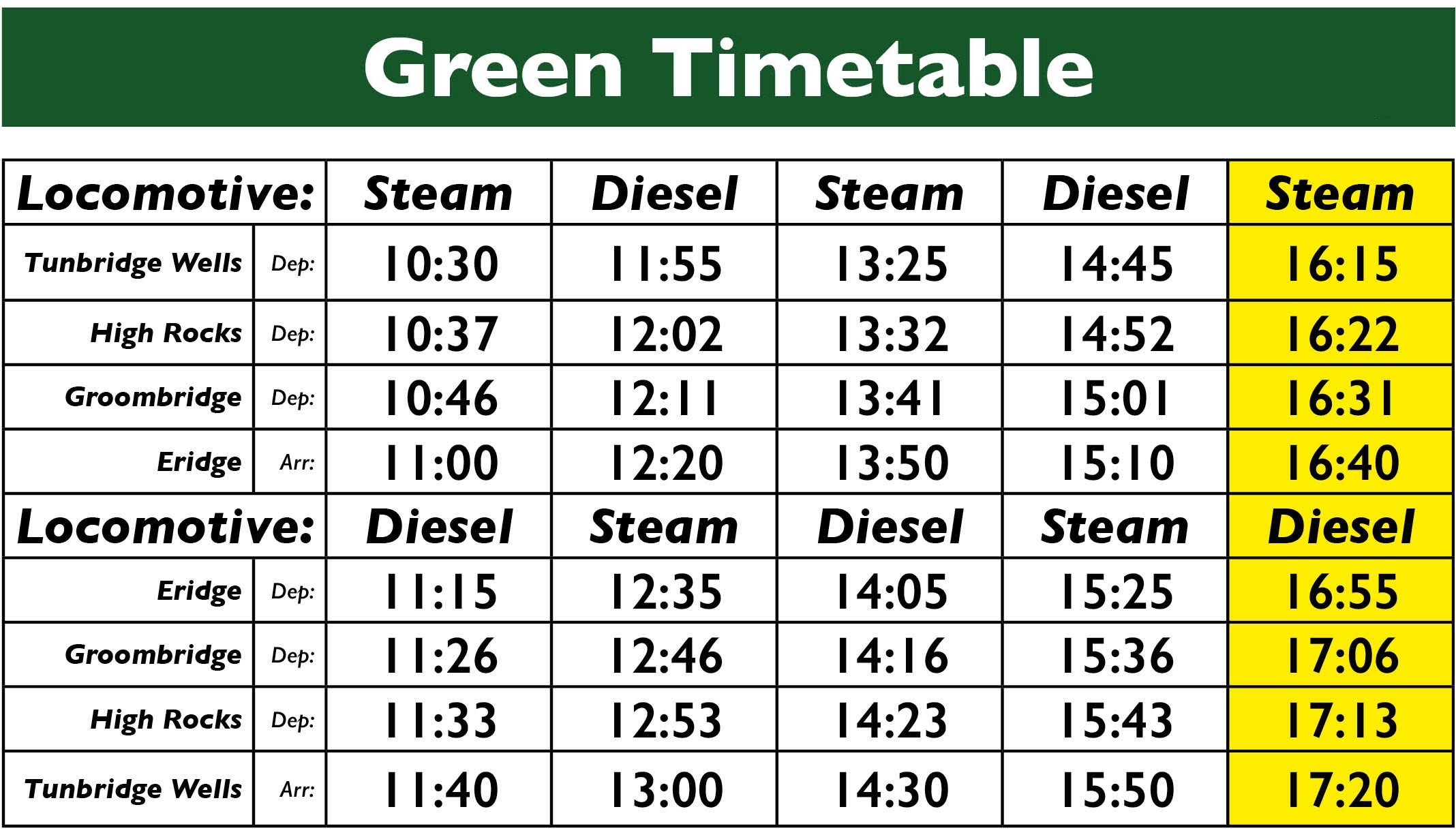 Whilst we make every effort to operate with a steam locomotive where one is timetabled and also to operate our trains as they are described, for operational reasons we may occasionally need to use a heritage 1960s diesel locomotives, other carriages, an emergency timetable or otherwise.
The Spa Valley Railway reserves the right to make such changes for whatever reason without prior notice being given.
______________________________________
Purple Timetable - Diesel Only

Please note that the train shaded in Yellow does not operate on 23rd October.
All trains will normally be operated by a 1960s heritage diesel unit, or an electrical multiple unit hauled by a heritage 1960s Class 73 diesel locomotive.