Spa Valley Railway » Enthusiasts » General Managers Blog
Tuesday 20th February
A quiet evening which gave me time to concentrate on our latest dining trains leaflet, this is nearly at the proof reading stage. Advanced ticket sales for the visit of 'Bluebell' have gathered pace over the past 24hrs which is very pleasing to see!
Monday 19th February
Bluebell has arrived from Sheffield Park! Courtesy of the Bluebell Railway, this 1910 built 0-6-0 tank engine was delivered today by Reid Freight. Arriving after its short journey from East Sussex 'Bluebell' was safely unloaded and shunted using our Drewry and 33063 into No.3 road in the shed. Bluebell will enter service this coming Saturday. We are extremely grateful to our friends at the Bluebell for loaning us their locomotive and we look forward to seeing you travelling behind her over the coming weeks. For those interested she is facing towards Eridge, unusual for our line as most engines face towards Tunbridge Wells West.
In other news, a minor fault on 33201 has been rectified which saw this locomotive back in action and the VMIs continued on our DEMU, all that remains is an over the pit examination one the run round loop has been put back together.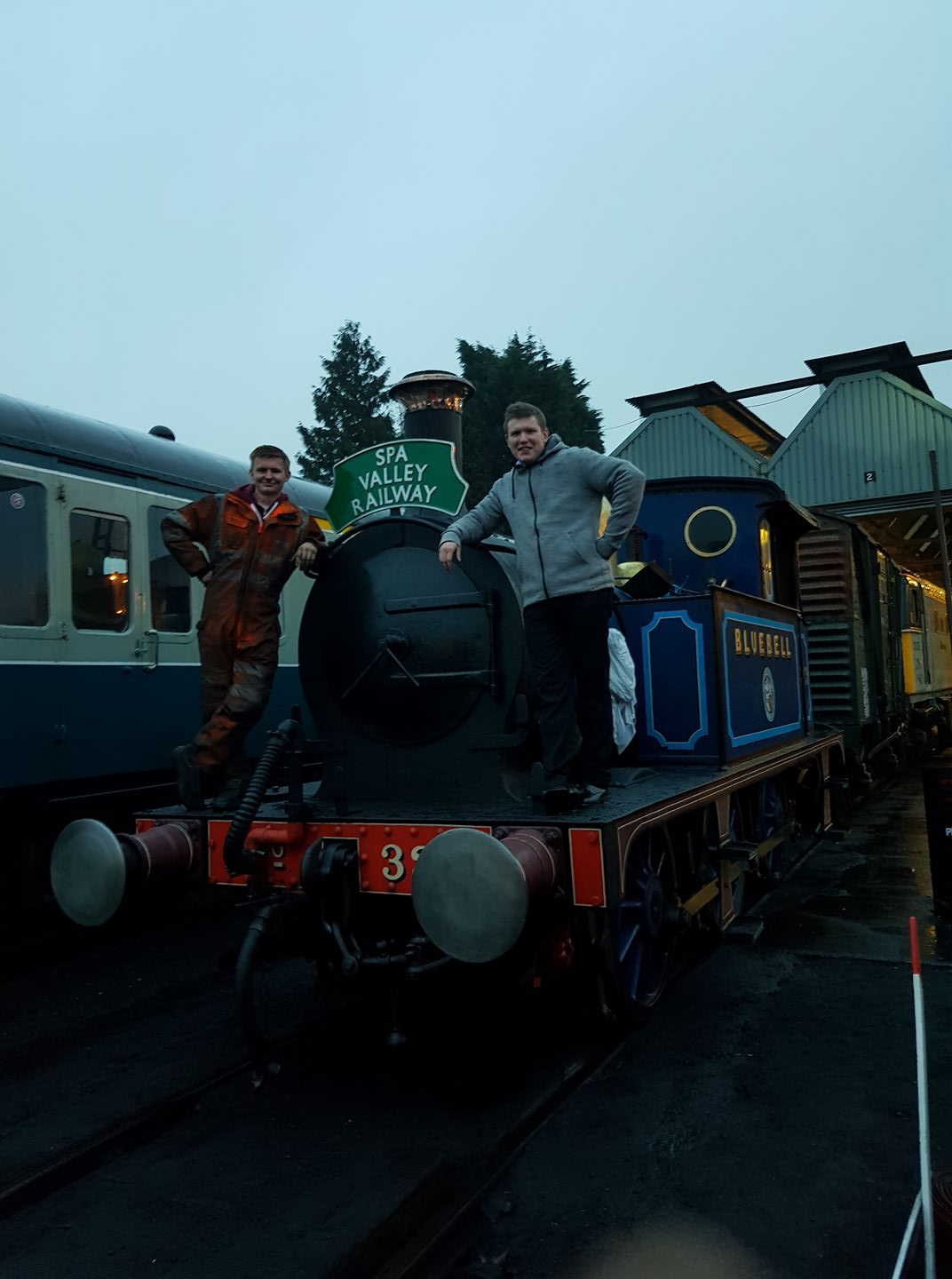 General Manager Jonnie Wesson (right) with Locomotive Department Roster Clerk Charlie Ralph (left) after unloading Bluebell.
Sunday 18th February
A quiet weekend when compared with last ones however trains were still well filled. Our temporary bar set up in TSO 4999 doing a roaring trade along with the buffet at Tunbridge Wells. 328 passengers carried over the two days although this figure excludes special bookings and internet bookings for our Valentines Wine Specials that we had going on.
A meeting was held on Sunday morning with our Steam department to discuss where we are with locomotive overhauls, presently the Jinty, Sutton and Lady Ingrid taking priority. The cylinder block for Sutton is due to go back into the frames next weekend and the axle boxes are being machines off site. Once this is complete the package of already overhauled wheels, motion and other components can be re-assembled making the locomotive a rolling chassis. The next big task after this will then be the locomotives boiler.
A further meeting with our Steam Engineering Assistant was then had this afternoon to discuss taking on loan another steam locomotive later this year, all was agreed, and this should progress later this week. Steam Driver Experiences were also added into our 2018 calendar with a new volunteer taking on the coordination of these events.
Tomorrow, SECR P-Class No. 323 'Bluebell', courtesy of the Bluebell Railway will be arriving at Tunbridge Wells West so today various shunting movements were done at Tunbridge Wells West to prepare the yard ready for her arrival.
In the shed 'Kate' was having her bar rebuilt and our electrician continued his fantastic work with the full re-wire of the kitchen and bar area, we estimate that 'Kate' will not return to action before Easter, once back in action a few more products will be on offer!
So onwards to the arrival of 'Bluebell' tomorrow!
Friday 16th February
We met with our partners Growth by Design on Monday evening for a meeting to look at logos for a new brand identity for our dining products. With 8 offerings (High Weald Belle Dining, High Weald Belle Luncheon, Afternoon Tea, Morning Coffee, Cream Tea, Fish & Chip Lunch, Fish & Chip Supper & Murder Mystery evenings) it was thought best to bring it all under one umbrella identity.
The term 'Dining in the Weald' was devised and a meeting was had in late January with Growth by Design to discuss the creation of a logo for the brand and all advertising going forward. After just a week's work we were presented with three different designs to look at last Monday evening. The one we've chosen didn't take long as we were sold straight away, the logo captured exactly what we wanted, the wording 'Dining in the Weald', the aspect of a train by use of the wheel and the dining with the knife and fork, the wheel acting as a plate so really tie it all in together. The overall shape of the logo is similar to that of our railways own logo that is based on a traditional Southern Railway 'target' sign once common sight all over the Southern Railway network.
Working with Growth by Design has been a fantastic experience from the beginning, amazing value and a brilliant service. Their MD being very flexible to meet with us on evenings after most offices would be closed, I would strongly recommend them!
'Dining in the Weald' now brings together all of our dining products under one roof and we think you'll agree, the logo is rather smart!

Jonnie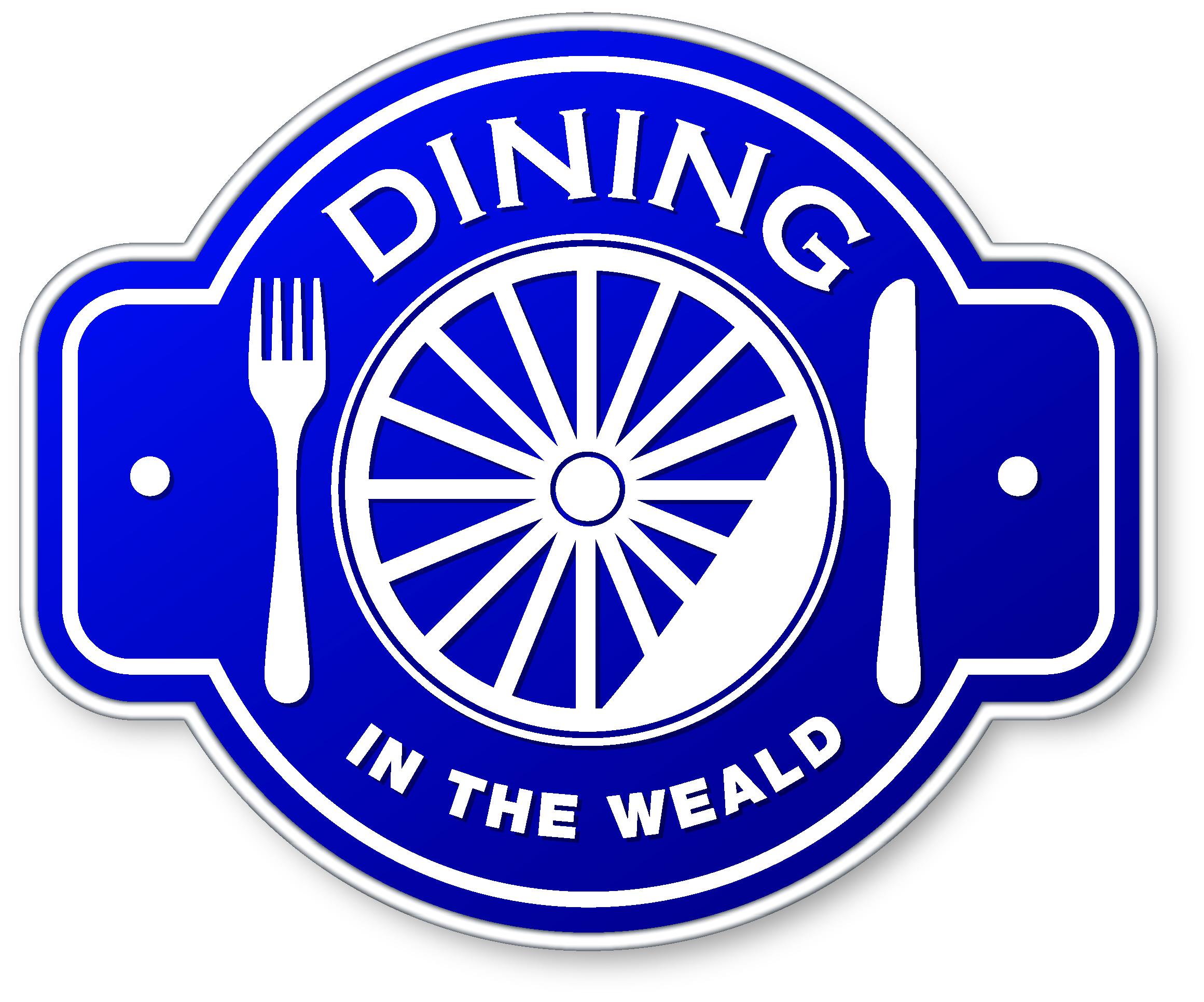 Thursday 15th February
The Spa Valley Railway is delighted to announce the visit of South Eastern & Chatham Railway P-Class locomotive No.323 'Bluebell' courtesy of the Bluebell Railway.
The 1910 built 0-6-0 tank engine, preserved in 1960 at Britains first standard gauge preserved railway, will be arriving at Tunbridge Wells West next week and enter service on the 24th February. Bluebell will operate along with one of our diesel locomotives on Green timetable days until the end of March prior to returning to Sheffield Park in time for Easter.
Photos copyright Jonathan Hughes.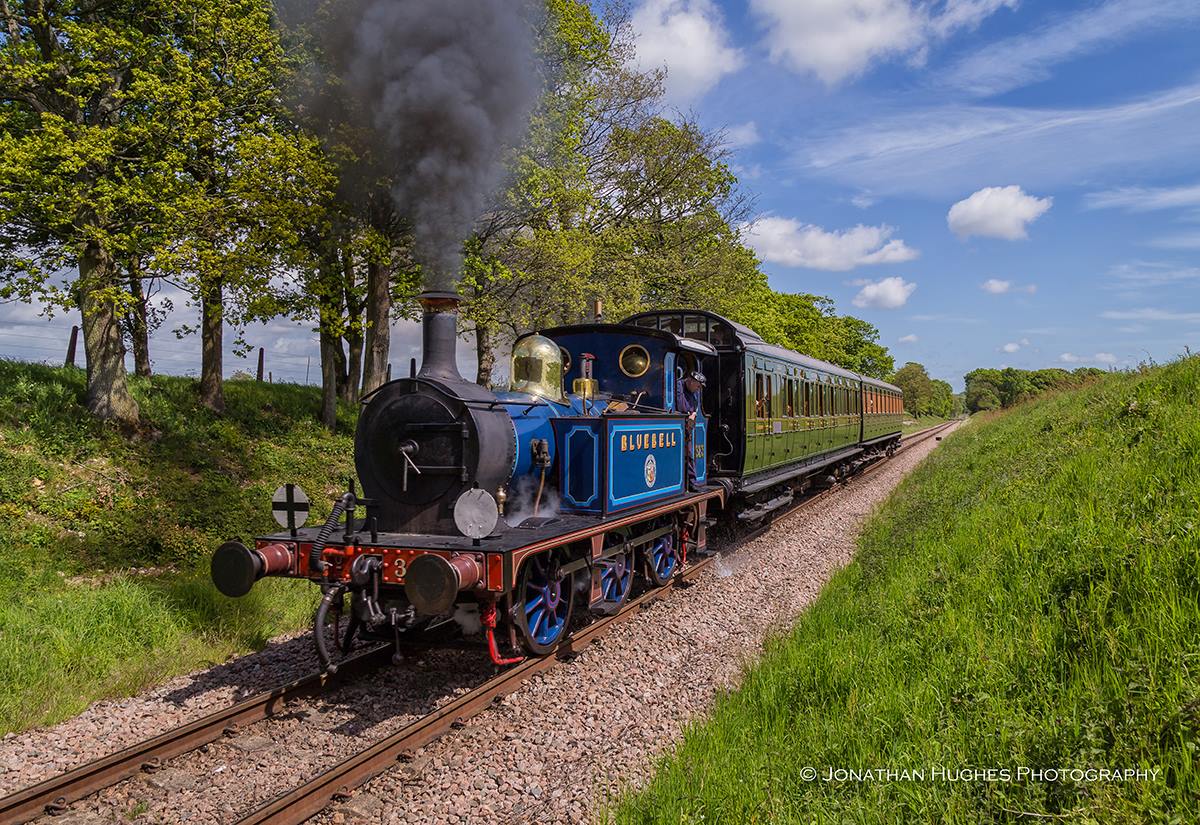 Tuesday 13th February
A locomotive hire agreement has just been signed! Watch this space for an engine which will be arriving in the very near future for a short period!
No.72 also left the railway today following a period of hire over the past 2yrs, we are extremely grateful to owners past and present for the loan of this lovely engine!
Jonnie
Monday 12th February
Met with our logo designer this afternoon to discuss the new brand image for our dining train products, more on this very soon but the final product looks amazing!
Tomorrow should see 72 and 31289 departing from the railway, this will leave us on the steam front with just 'Ugly' however plans are well underway to bring another steam locomotive to us ASAP.
Jonnie
Sunday 11th February
So the 2018 season has commenced, and this also saw the launch of our brand-new retail system on Saturday 10th February. A project that has grown considerably over the past few months with the system on test behind the scenes. Huge thanks must go to Matt Futter (also my PA) for the work he has done to make this dream a reality. The benefits having already been seen with lots of favourable feedback from the volunteers using the system.
Visiting us for the 10th & 11th February were two characters each day from the PJ Masks show and advanced ticket sales for this day event were incredible, it is pleasing to see how popular these characters are. The total number of visitors for this event at the close of play were 1,069, a fantastic way to start off the 2018 season!
The first of many Saturday night dining trains took place on the 10th, the first Murder Mystery train of the season was will filled with 75 out of the 78 seats being sold. Due to the bar car 'Kate' being out of action we had a temporary set up in our MK1 TSO 4999 however sales were not hampered by this slight alteration with sales being much the same as when 'Kate' is available.
'Kate' has been in service since 1999, the coach received a major bodywork overhaul in 2012 and over the winter period 2018 the kitchen and bar area have been revamped. This work has also included a full re-wire of the kitchen area and associated cupboard/toilet, a new generator with a larger capacity is being sourced for fitting to this vehicle later in 2018. It is planned for 'Kate' to re-enter service later in February/early March in time for the start of our High Weald Belles for this year.
Operationally at the moment we lack a run round loop at Tunbridge Wells West, this follows on from the renewal of our main points in November and Loop/Yard points in January. Some further work was needed on the track in the run round line which will be coming back together over the coming weeks, our volunteers worked in all weathers to get our yard reconnected in time for the new season and have all done an outstanding job.
Into the next week should see Austerity No. 72 departing for a new railway and also see Class 31 31289 returning home to Rushden following its extended visit. Both locomotives have seen service on many Spa Valley Railway trains and we are grateful to their owners for letting them visit us.
That's all for now, I'll endeavour to keep this up to date as much as possible!
Jonnie