Spa Valley Railway » All Events
Afternoon Tea at the Spa Valley Railway!
Travelling on our Afternoon Tea train, you will be able to experience a traditional English pastime of Afternoon Tea but this time hauled by one of our Steam and/or Heritage Diesel locomotives, this is the way to spend an afternoon out in style
Throughout 2018, board your train at Tunbridge Wells West for 15:00 and be shown to your seat. The train will depart for 15:20 hauled by one of our powerful 1960's Heritage Diesel Locomotives. You will travel to Eridge station enjoying a wonderful afternoon tea en route, which will be at your tables in Afternoon Tea Baskets ready for you. At Eridge as your train arrives you'll be able to see the steam engine ready to haul your train back up the hill to Tunbridge Wells West. Departure from Eridge will be at 16:10 arriving at Tunbridge Wells West at 16:40.
When booking tickets online, please ensure you click the "choose your seats" option at the top of the page after you have entered your menu requirements. This will open the seating for the train and you click on anything that is highlighted in blue to select your seats. This then takes you back to the same page where you can then go to the bottom of the page and click checkout. This then takes you to the page where you add your address and payment details to complete your booking.
If you have any dietary requirements (gluten free, vegetarian etc.) please choose these options at the time of booking, it is impossible for us to make alternative arrangements on the day.
~~~~~~~~~~~~~~~~~~~~~~~~~~~~~~~~~~~~~~~~~~~~~~~~~~~~~~~~~~~~~~~~~~~~~~~~~~~~~~~~
Classic Afternoon Tea Menu
Three finger sandwiches with fillings:
Smoked Salmon with Cracked Black Pepper & Lemon
Free Range Egg Mayonnaise with Rocket
Baked Ham & Wholegrain Mustard
~~~
Scone with Jam & Clotted Cream
~~~
Afternoon Tea Cakes
Chocolate & Raspberry Slice
Lemon Meringue Cheesecake
Fruit & Cream filled Tartlet
~~~
Mini Shortbread Biscuit
~~~
A selection of teas:
English Breakfast
Decaffeinated Tea
Or Coffees:
Filter Coffee
Decaffeinated Coffee
~~~~~~~~~~~~~~~~~~~~~~~~~~~~~~~~~~~~~~~~~~~~~~~~~~~~~~~~~~~~~~~~~~~~~~~~~~~~~~~~
What's included?
• One return journey from Tunbridge Wells West to Eridge with Steam and/or Heritage Diesel
• A traditional Afternoon Tea, either Classic, Luxury or Celebratory dependent on ticket type selected
~~~~~~~~~~~~~~~~~~~~~~~~~~~~~~~~~~~~~~~~~~~~~~~~~~~~~~~~~~~~~~~~~~~~~~~~~~~~~~~~
Afternoon Tea Prices:
• Table of Two - £70
• Table of Four - £140
Our popular Afternoon Tea service operates on selected 15:20 departures on Thursdays, Saturdays and Sundays throughout the year from Tunbridge Wells West.
Please note that whilst every effort is made to operate a Steam locomotive when advertised, in unavoidable circumstances a Heritage Diesel may be used.
~~~~~~~~~~~~~~~~~~~~~~~~~~~~~~~~~~~~~~~~~~~~~~~~~~~~~~~~~~~~~~~~~~~~~~~~~~~~~~~~
Wine List
White
Mondelli Pinot Grigio – 12%
This classic Pinot Grigio shows enticing aromas of citrus fruit and pear drops.
Hardys Varietial Chardonnay – 13%
A delicious dry Chardonnay with rich varietal melon and peach fllavours.
Red
McGuigan Estate Merlot 12.5%
A wine with rich fruit flavours of plum and red berry, balanced by subtle oak.
Campo Viejo Rioja Tempranillo - 13.5%
A cherry red colour, its rich aromas have a pronounced intensity with an initial scent of ripe red fruit followed by gentle sweet notes of vanilla and spices.
Rosé
Blossom Hill White Zinfandel Rosé - 10%
A medium bodied wine filled with delightful aromas of strawberries and the flavour of red, ripe watermelon.
Mondelli Pinot Grigio Blush – 12%
A delicately coloured wine with aromas of wild strawberries, zesty minerality and flavours of forest fruits.
Sparkling
Vino Spumante Prosecco - 10.5%
75cl – £20.00 per bottle, 20cl – £8.00 per bottle
This elegant Prosecco Spumante has delicate lemon fruit notes and a refreshing lively style.
Please note that only drinks purchased on board from our waiting staff may be consumed on any Spa Valley Railway dining trains. Diners who wish to bring their own wine (including sparkling) or champagne will be charged corkage per bottle at: £17 wine, £20 champagne and £25 wine box.
~~~~~~~~~~~~~~~~~~~~~~~~~~~~~~~~~~~~~~~~~~~~~~~~~~~~~~~~~~~~~~~~~~~~~~~~~~~~~~~~
Private hire Afternoon Tea
Our Afternoon Tea train is available for private hire on days we're already operating or on days when the railway is otherwise closed to the general public. This must be pre-booked at least two months in advance, and is dependent on our own services and our caterers availability.
We can cater for up to 78 guests for Afternoon Tea and can even take you from either Tunbridge Wells, Groombridge or Eridge stations to a destination on our line of your choice! This is the perfect way to celebrate that all important anniversary, birthday or for business/corporate functions.
Prices for private hire Afternoon Tea with the Classic menu start at £35 per person. On days when we are not already operating then our Afternoon prices as already stated however a private hire fee of £1,500 also applies. This fee includes use of the Spa Valley Railway with a Steam locomotive and carriages for up to four return trips between Tunbridge Wells West & Groombridge, this fee does not lower if less trips are undertaken.
To get a firm quote and discuss your requirements for a private hire Afternoon Tea please contact our Administrator here. The prices quoted above may vary depedent on your own requirements, the minimum private hire fee is £1,500.
~~~~~~~~~~~~~~~~~~~~~~~~~~~~~~~~~~~~~~~~~~~~~~~~~~~~~~~~~~~~~~~~~~~~~~~~~~~~~~~~
Some photos of our Afternoon Tea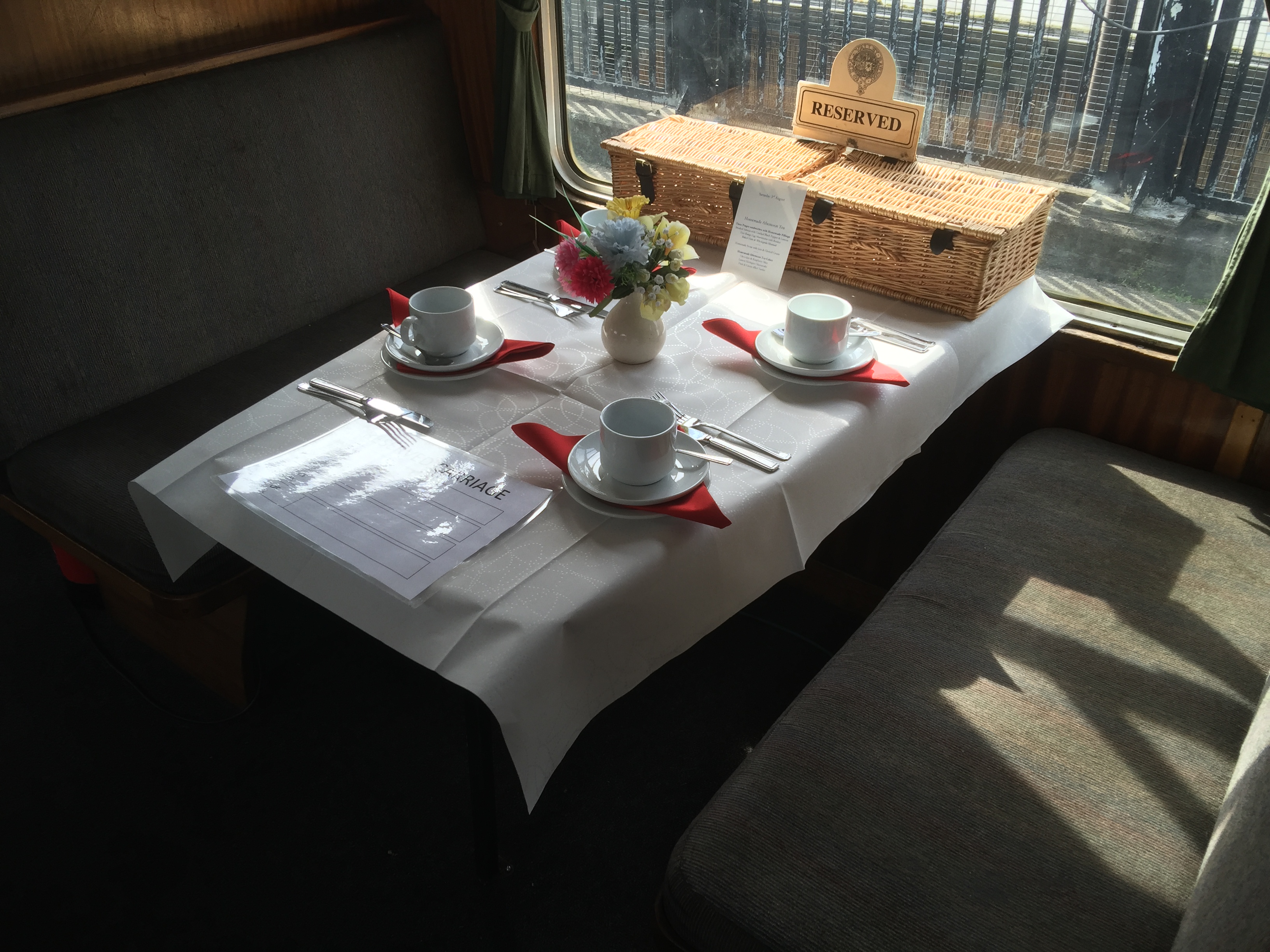 ---
Terms & Conditions for all dining trains can be found by clicking this link
Booking information
For this service you can only book a complete 'Table for 2 Persons' or a 'Table for 4 Persons'.
Ensure you book the correct number of tables for the people in your party. Coach C is the only carriage available for this service.
On some occasions it may be necessary to seat customers who have purchased a 'Table for 2 Persons' on a 'Table for 4 Persons'. It may therefore be that you are sat opposite another couple at a 'Table for 4 Persons' should there not be enough tables of two.
Note that a £10 admin fee applies to all booking alterations.
For our full refund, cancellations and alterations please see here.