Four days of heritage diesel action with a visiting Class 20, Class 50, Class 55 'Deltic' and Class 421 EMU too!
#LittleRailwaysCanDoBigThings
Event poster can be downloaded here
Timetables have been written, they are just being checked and will be published very soon, at the same time Driver for a Fiver and Cab Rides will go on sale.
Our annual and well known four-day Summer Diesel extravaganza, which is a major part of our 20th anniversary year, will commence at 09:30 on Thursday 3rd August with English Electric Day (see below) and see a variety of locomotives in action over the four day event.
Class 20 D8188 - The first visiting locomotive for our diesel extravaganza is Class 20 D8188 courtesy of the Somerset & Dorset Locomotive Company. This locomotive brings us a 20 in our 20th year, usually based at the Severn Valley Railway is making a trip away to us for a couple of weekends. These very popular locomotives are now quite a rarity in preservation with a lot seeing service on the national rail network.
Class 55 55019 - The second visiting locomotive, and by far the most powerful to have ever worked on the Spa Valley line is a Class 55 'Deltic' 55019 'Royal Highland Fusilier, courtesy of the Deltic Preservation Society. This iconic diesel locomotive, one of the most well-known of its type around Britain will remain on the line throughout August for a Deltic Dazzling Summer! The locomotive is available for Driver Experience too, these experiences can be booked online here.
Class 50 50026 - The third visiting locomotive and the first Type 4 to haul passenger trains at the Spa Valley Railway is Class 50 50026 'Indomitable', courtesy of its owner Paul Spracklen. This 2,700hp locomotive will be arriving at Tunbridge Wells West in early June and will operate at regular intervals on our green timetable days and also a special Class 50 running weekend, with the grand finale of the locos visit at our Summer Diesel Gala! Driver Experience on this powerful machine can be booked online here.
Class 421 3CIG 1497 - The visiting unit, and one coming to us for a period of 5 years is ex-Lymington Branch 'Slammer' 1497, this will be the first time in a number of years a 3CIG has been seen on the Southern, the unit will be used in Push/Pull with 73140 and also as Set B loco hauled coaching stock.
Along the line will be a line up of 20 real ales and 5 ciders, most will be available from our bar car 'Kate' which is located on set A of our trains.
The Locomotives/units:
Drewry 2591 'Southerham'
Class 09 09026 'Cedric Wares'
Class 10 D3489 'Colonel Tomline'

Class 20 D8188 - Courtesy of the Somerset & Dorset Locomotive Company
Class 31 31289 'Phoenix'
Class 33/0 33063 'R.J.Mitchell'
Class 33/2 33201
Class 50 50026 'Indomitable' - Courtesy of PTG Tours Ltd.
Class 55 55019 'Royal Highland Fusilier' - Courtesy of the Deltic Preservation Society
Class 73 73140
Class 207 DEMU 1317
Class 421 3CIG 1497 'Freshwater' - Courtesy of its owners
All locomotives/units are subject to availability.
English Electric Day - Thursday 3rd August
As a prelude to the main event, from 09:00 to 19:00 on the Thursday of the gala we'll be operating everything that we can which has a strong relation to English Electric, this will include: 09026, D8188, 31289, 50026, 55019 & 73140 hauling trains throughout the day between Tunbridge Wells West & Eridge.

The Class 09, 20, 31 50 & 73 all have power units built by English Electric, the Class 55 also known as a Deltic was built at the English Electric Vulcan Foundry and has 'EE' traction equipment fitted alongside its Napier engine.

Real ale & cider bars will be open as well as our BBQ at Groombridge, it is likely that only the Class 33's will not make an appearance (despite 33063 being fitted with an English Electric cooker!)

Our Class 207 DEMU 1317 is planned to operate a unique 'Driver for a Tenner' shuttle at Tunbridge Wells West, a very rare chance to try your hands at driving a 'Thumper' over a short distance.
Forming up Set B on this day is the freshly arrived Class 421 3CIG 1497, the 3 car unit will be operating in Push/Pull with 73140 at intervals throughout the day and also act as hauled stock for our other trains in action.
Evening 'Real Ale' & Dining Trains
Our popular evening real ale trains will run on the Friday and Saturday nights.

Traction is planned as follows:
Friday: 50026 (TWW end) D8188 (leading) + 31289 (ERD end) - Load 5 + QMBV
Saturday: 55019 (TWW end) 31289 + 50026 (ERD end) - Load 5 + QMBV

Bar car 'Kate' will be open throughout with a large selection of real ales and ciders on offer for you to enjoy, our trains will run until approximately 22:00 on the Friday and 23:00 the Saturday.
We're delighted to announce the return of our Curry Express, brought to you by our popular caterers The Complete Lunch.
Journey from Tunbridge Wells West down the line to Eridge and enjoy the following delightful menu served to you at your table:
Starter
Popadums with Mint Dip & Mango Chutney
~~~
Main
Chicken or Vegetable Curry with Rice
Naan Bread
~~~
Desert
Vanilla Ice Cream
The price is just £24.95 per person which includes the above menu and train travel from approximately 19:19 to 22:19, that's three return trips from Tunbridge Wells West to Eridge!
Combined Diesel Gala Day Rover & Curry Express tickets can be chosen as an option on our Curry Express page HERE. It is just £35.00 for adults and £25.00 for children!
We at the Spa Valley have been operating Fish and Chip Supper trains since the early 2000s and they now have an extremely popular reputation amongst the local population and also from afar, some of these evenings are also combined with our Murder Mystery trains, click here for further details.
Join the train from 19:00 at Tunbridge Wells West and be shown to your seats. At 19:19 the train will set off for Eridge and complete four return journeys. Whilst on your journey you will enjoy a freshly prepared Fish and Chip supper followed by an ice cream dessert. You will return to Tunbridge Wells West and can leave the train at your leisure throughout the evening or stay for as long as our trains are running!
Our on train bar car 'Kate' will be open throughout the evening selling a large range of real ales, cider, wines (including sparkling!) and also hot & cold soft drinks.
Menu:
Cod & Chips (can also be gluten free), Sausage (battered or non-battered) & Chips, Spring Roll & Chips
Ice Cream
Combined Diesel Gala Day Rover & Fish & Chip Supper tickets can be chosen as an option on our Fish & Chip Supper page HERE. It is just £35.00 for adults and £25.00 for children!
Ticket Prices, on the day price shown:
25% DISCOUNT AUTOMATICALLY APPLIED AT THE CHECKOUT!
| | |
| --- | --- |
| Adult Day Rover | £25.00 |
| Child Day Rover | £15.00 |
| Adult Two Day Rover | £35.00 |
| Child Two Day Rover | £20.00 |
| Adult Three Day Rover | £45.00 |
| Child Three Day Rover | £30.00 |
| Adult Four Day Rover | £60.00 |
| Child Four Day Rover | £45.00 |
| Adult Evening Rover (from 18:00) | £10.00 |
| Child Evening Rover (from 18:00) | £5.00 |
Child tickets are 2-15yrs.
Single fares available upon request, standard returns not available.
Day Rover Ticket is valid for travel on the date shown from the start of service to the end, you DO NOT need to purchase an additional ticket to travel on any evening services or brake van rides.
There will be no other fares available over the event, nor is any form of discount available such as HRA passes, reciprocal travel or BR Privs.
Tunbridge Wells West
Our buffet car 'Emily' serving light refreshments.
Part of shed open for public viewing subject to staff availability.
Sales stands including the Network South East Society & South East Locomotive Group.
Class 10 drags into Tunbridge Wells West station over the event.
Viewing gallery at the end of the main platform.
Station shop stocking a large variety of diesel traction produce.
High Rocks
Access to the famous High Rocks or Tea Garden Lane which can provide great photographic opportunities.
High Rocks Inn and garden.
A great place to watch the trains from the Inns' garden.
Please note that not all trains will not serve High Rocks.
Groombridge
Trains passing all four days.
The popular BBQ!
Refreshments, including real ale, available at the station.
Lots of books on our bookstall under the Tunbridge Wells West end canopy, grab a bargain!
Driver for a Fiver/Brake Van Rides with our Drewry locomotive from the station to the Ashurst Spur & rtn
Eridge
Mainline connections with Southern services to Central London, East Croydon, Oxted and Uckfield.
Real ale and cider bar in the waiting room all three days along with snacks, hot and cold drinks.
'Driver for a Fiver'
Visits to the 'South of Eridge' when possible.
Refreshments, Real Ale & Ciders
'Kate'
Our award winning on train bar will be open all four days from the first trains departure to the last trains arrival, this includes the Friday and Saturday evening trains. 'Kate' will be open for the sale of real ale and cider, sandwiches, bacon & sausage rolls, crisps, biscuits and other light refreshments throughout the day.
'Emily'
Our ex BIG TSO(RB) from unit No.2254 (Buffet Brighton, B for Buffet and IG the LB&SCR telegraphic code for Brighton) will be open on all four days serving, pasties and sausage rolls as well as hot & cold drinks and light snacks, we will also be able to sell a limited selection of alocoholic beverages in the form of bottled ales & ciders.
Groombridge
Located on the station platform will be our 'Bar in the Van' set up in our van body which can be found near to the Signal Box. There will be at least 3 real ales on offer and our BBQ will this year be on the station platform serving locally produced fare.
Eridge
Light refreshments including Real Ale & Cider will be available in the station waiting room.
Real Ale
High Weald
Mosaic Pale 4.2%
Off the Chart - 5.0%
Gun Brewery
Parrabellum Milk Stout - 4.1%
Scaramanga Extra Pale - 3.9%
1648 Brewing Co.
Bee Head - 4.6%
Britannia Ale - 4.1%
Pig & Porter
Rye Red Spider - 4.8%
Stout Dance First - 4.2%
Kissingate
Black Cherry Mild - 4.2%
Storyteller 3.5%
Gadds
No.3 - 5.0%
Seasider - 4.3%
Kent Brewery
Abbey 2016 - 6.2%
Old Jamaica - 5.1%
Mad Cat Brewery
Pow Wow - 3.6%
Golden India Pale Ale 4.2%
Cider
Kent Cider
Mango - 5.5%
Vim Top - 5.5%
Turners Cider
Sweet - 7.0%
Pear 5.5%
Kentish Pip
Forager Hedgerow Berry Cider - 4.0%
Firespice Ginger Cider - 4.0%
Drive a Loco & Cab Rides
Over all four days of the event there will be the opportunity to drive certain locos and also ride in their cabs, Drive a Loco will take place at Groombridge using our Drewry locomotive No.2591 'Southerham' and will operate from the platform to the end of the Ashurst Spur & rtn. A unique opportunity to travel down what is a very rare section of our railway.
The cab rides from either Tunbridge Wells West or Eridge will be £20 per single trip, please note that these will only be available on certain locomotives dependent on their owners reps.
Cab rides and Drive a Loco will be for sale in June/July upon completion of the timetables.
Brake Van Rides - Groombridge Station to Ashurst Spur
Throughout the gala when there are no trains present our Drewry locomotive 'Southerham' will operate between Groombridge station and the Ashurst Spur with our London Transport brake van offering unique trips down one of our rarely used sidings and a close up with the usually inaccessible disused railway towards Ashurst Junction. The total distance is around 1/2 mile for a round trip.
There is no extra charge for these brake van rides providing you are a rover ticket holder, the timings of their departures will be advertised much closer to the event.
Local Accommodation:
There are many places to stay in Tunbridge Wells West during the summer but we suggest you book in advance to make sure you can stay over and enjoy the whole gala!
The nearest campsites to the Spa Valley Railway can be found here, the campsite we run past is for Scout Groups only, not for the general public.
Being a very popular tourist destination, Royal Tunbridge Wells and the surrounding area can book up early for the Summer period so don't delay, reserve your room today!
How to find us?
By road:
The railway's Tunbridge Wells West address is: West Station, Neville Terrace, Royal Tunbridge Wells, Kent, TN2 5QY and we can be located at the Western end of the town by Sainsbury's and Homebase. Brown tourist signs in the area will assist in guidance and there are two Pay & Display Car Parks within 5-10 minutes' walk of Tunbridge Wells West Station located at Union House, Linden Close and Major York's Road.
Eridge Station can be accessed off of the main A26 Tunbridge Wells to Lewes Road. The station has a large Pay & DIsplay Car Park and currently at weekends is just £2 to park all day.
There is very limited parking at Groombridge Station. High Rocks Station has a large free car park and signage is available from Tunbridge Wells to the Rocks themselves.
For Sat Navs the railway is located at the following post codes:
Tunbridge Wells West: TN2 5QY

High Rocks: TN3 9JJ

Groombridge: TN3 9RD

Eridge: TN3 9LE
By rail:
The easiest station you can get to us via rail travel is Eridge where our trains depart from Platform 2 or you can arrive via Tunbridge Wells Mainline after a 10-15 minute walk down the town through the very famous Pantiles. Please check National Rail Enquiries before travelling.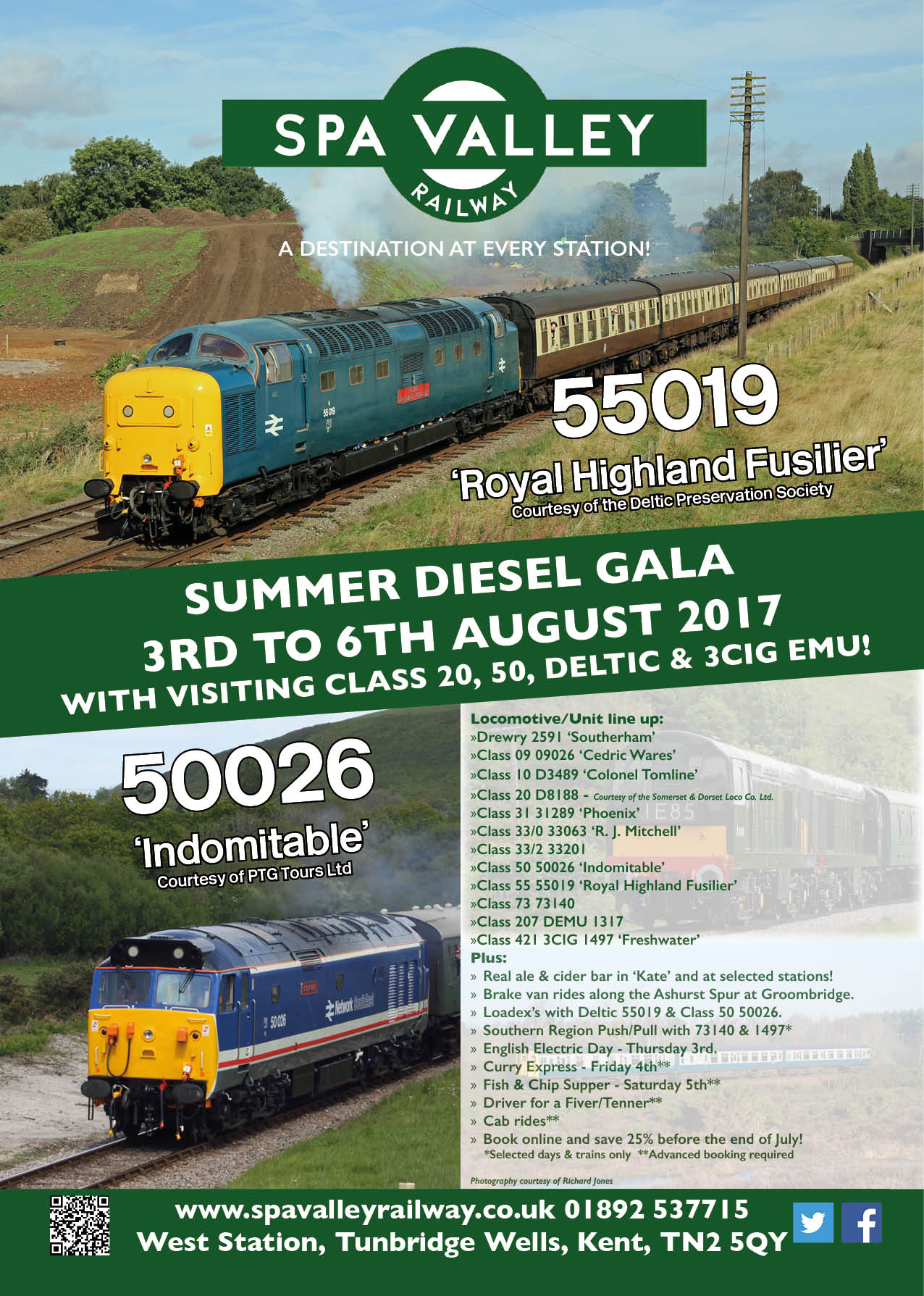 #LittleRailwaysCanDoBigThings